Refined and contemporary, reimagined LG STUDIO kitchen appliances can work with any space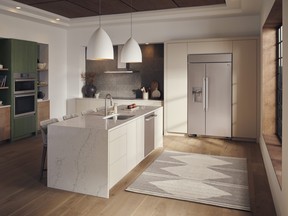 Article content
Each kitchen is as unique as the person who owns it, offering its own layout, workflow and design opportunities. That's why LG recently launched its reimagined LG STUDIO collection of stainless steel, design-driven home appliances — with new functionality and features.
Article content
"I think it's fair to say that we've gotten very familiar with our kitchens over the last couple of years," says Andrew MacDonald, senior manager of home appliances at LG Electronics Canada. "An increasing number of consumers are actively seeking innovation in their kitchens to add value to their daily lives."
The LG STUDIO collection is positioned to offer just that to consumers ranging from those who are looking for a refresh, to those who've decided it's time for a complete renovation or redesign. With its refined and contemporary look and feel, the LG STUDIO lineup offers opportunities to elevate almost any kitchen space.
"We've designed LG STUDIO to be a brand that's universally applicable to almost any scenario or aesthetic a customer can dream of," MacDonald says. "The lineup features both free-standing and built-in appliances that offer the discerning consumer the ability to mix and match for a seamless and elevated look."
Article content
The redesigned LG STUDIO lineup includes: a counter-depth refrigerator; side-by-side built-in refrigerator; gas, electric and induction free-standing ranges; built-in cooktops, wall ovens and wall-mount chimney hoods; and a top-control dishwasher — all united by a distinctive, contemporary style palette. That unified look includes a gleaming stainless steel, smudge-resistant finish, professional-style (pro-style) handles, and modern flat panels.
"We recognize that some kitchens will be spacious, and others will need to maximize available space," MacDonald says. "That's why we offer a choice of free-standing or built-in kitchen appliances."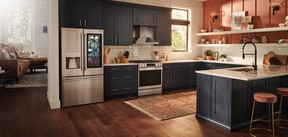 He notes that LG STUDIO free-standing appliances are ideal for consumers looking for an easy refresh and an instant upgrade for their kitchen. They simply replace existing appliances that work well alone or in tandem with other LG STUDIO appliances, and can be added to the kitchen at any time.
Article content
Built-in products, however, are generally included as part of a custom kitchen redesign and include options such as a built-in refrigerator, wall oven and induction cooktop.
LG STUDIO built-in appliances also offer the flexibility of proud install — where the products protrude from the cabinetry — or flush install, which lines up closely with the cabinetry. Many LG STUDIO appliances feature soft-close hinges typically found at much higher price points.
"LG STUDIO built-in appliances are in a class of their own and offer consumers an elevated level of kitchen luxury," MacDonald says. "The flush install provides not only a feeling of space, but a sense of seamless integration within the kitchen design. It offers a clean, modern and elevated aesthetic at an accessible price point."
Article content
But design aesthetics go beyond the merely visible. The new pro-style handles and appliance knobs are designed to heighten a consumer's direct interaction with the appliances as well.
"Features such as the heavily-weighted solid knobs on our range feel substantial when you go to turn on the burner," says McDonald. "The pro-style handles are beautifully contemporary from the front, but the rear portion is curved and contoured to fit your hand. Every time you go to open that fridge or oven, it feels solid."
Consumers are also looking for functional innovation that makes household tasks easier and more fun. The LG STUDIO oven lineup offers options for LG's ProBake® Convection technology, Air Fry, and Air Sous Vide capability.
Article content
In refrigerators, LG's exclusive Craft Ice™ feature can create slow-melting ice spheres two inches in diameter to cool drinks.
All LG STUDIO appliances connect to the LG ThinQ® app for greater functionality. Fully integrated with both Google Assistant and Amazon Alexa, the app enables consumers to instruct their appliances to perform certain functions remotely. For appliances featuring the LG Smart Diagnostics feature, consumers can run their own appliance performance checks through the LG ThinQ® app, allowing them to produce reports, receive simple maintenance tips or connect with LG customer support agents.
"If, for example, you're not getting normal ice production, LG Smart Diagnosis on the ThinQ® app will tell you exactly what's happening, and suggest some easy ways to address it," MacDonald says. "In addition to features that offer remarkable design and functionality, all LG STUDIO appliances have a two-year warranty on both parts and labour."
For more information on the LG STUDIO kitchen appliance collection, please click here.
This story was created by Content Works, Postmedia's commercial content division, on behalf of LG Electronics Canada.